William Marchant Jones
1884 - 1967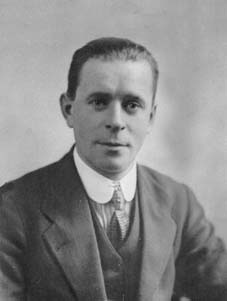 W.M. Jones grew up in Coleford (Somerset), where his family kept the Crossway Stores. He was a man of many talents, running a photographic portrait studio, writing newspaper articles (including the Jarge Balsh stories) and eventually founding a local newspaper, the 'Independent'. He owned one of the first motor cars in the village and was a strong supporter of the local church, where he sang in the choir and later became choirmaster.
He was well known and well respected by the villagers as the benefactor who commissioned for the church a stained-glass window by Keith New, the artist whose works are to be found in in Coventry Cathedral. He also purchased the old Miners; Welfare Institute when it became redundant and gave it to the village as a church hall.
The concrete block works at Vobster was another of his enterprises, which gave much-needed employment to the area.
The first Jarge Balsh stories were originally published in book form in 1926 and W.M. Jones continued writing them until the 1940s.
More on the life of W.M. Jones